HOW TO BUY THE BEST KITCHEN FAUCET FOR YOUR HOME
We're not denying it: there are a lot of cool kitchen faucets in the world. But the reality is, not only are there a lot of cool-looking spigots, but there are a lot of options, in general. From our vantage point (and probably yours too), there are an overwhelming amount of options. Especially when one doesn't really know what these options mean in its day-to-day application. Fundamentally, the kitchen faucet plays one of the largest roles in your home. You, most likely, use the kitchen faucet on a daily basis. And in that, every person uses their faucet differently. Not all faucets are created equal, and not all people wear the same uniform. Variety, as they say, is the spice of life. So, when you're picking out your new kitchen faucet, you must first look at what you need in a sink set-up before jumping off the retail ledge. Well...there are a lot of things one might consider. So start to narrow down what you do or do not like about your current sink set-up, and that will help pave the way in answering what you will want in the future.
So, let's start with the varying features and work our way up from there.
THINGS TO CONSIDER EARLY ON:
1. Do you have low hanging cabinets or a window that might restrict a faucet? Then that industrial-style faucet of your dreams may have to wait for the full kitchen remodel, as its functionality won't serve the current space best. Have no fear, as there are some spectacular faucets with lower arcs.
2. Do you often fill and/or clean large pots? If so, you may need to think about investing in a new faucet with a higher arc to make things easier.
3. How many holes are in your sink or counter? If you have two or three and are looking to switch things up with a single-handled faucet, you might consider a deck plate to hide the other cuts.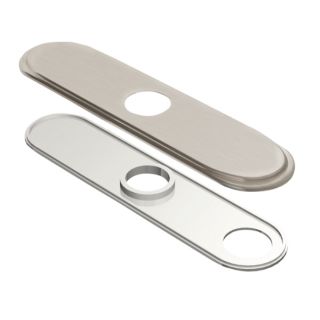 4. Do you need more than one faucet set-up? There are "extras", i.e. smaller faucets for bar + prep, pot fillers, and filtration. If you find yourself daydreaming of any or all of the above, check the yes box here. What style is your home? Because we can't have a faux-pas of combatting styles in your kitchen or ours.
TRADITIONAL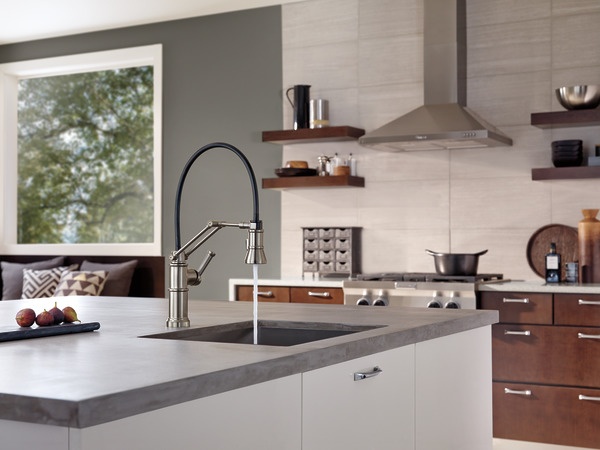 5. And what about finishes? Again, this tends to fall under a design style choice that follows from a traditional, transitional or modern home. The most common finishes are (bear in mind, finishes vary from manufacturer to manufacturer):
CHROME (BRUSHED OR POLISHED) POLISHED NICKEL MEDITERRANEAN BRONZE STAINLESS STEEL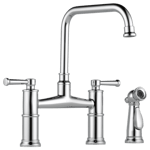 FAUCET HANDLES
ONE-HANDLED FAUCETS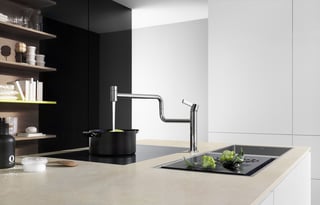 Pro's:
Sleek, updated look
Only one sinkhole required
Con's:
Less control over water temperature
Less control over water pressure/flow
TWO-HANDLED FAUCETS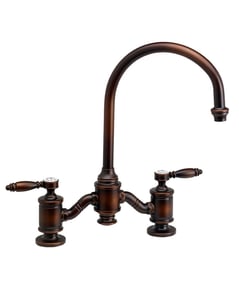 Pro's:
Easier control over water temperature
Maximum Less control over water pressure/flow
Con's:
More dated, design wise
Requires three cuts for holes in your countertop
HANDS-FREE FAUCETS
Pro's:
Sleek, updated look
Only one sinkhole required
Con's:
Less control over water temperature
Less control over water pressure/flow
FAUCET SPRAYERS
"Whether you're rinsing down the corners of your sink or cleaning fresh veggies from the garden, a faucet with the right sprayer helps make quick work of your kitchen tasks." -Moen Faucets
PULLDOWN SPRAYERS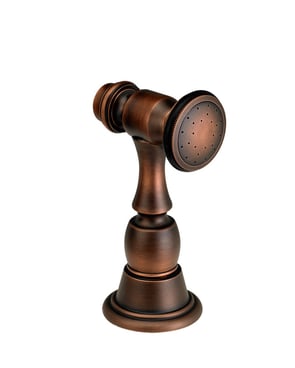 The pro's and con's of a certain type of spraying mechanism is hard to pin down --- as it varies from individual. However, here in the showroom, clients find that the pull-down, all-in-one type of faucet tends to work the best for them. Although the side sprayer tends to work nicely for traditional tastes. And, the pull-out faucet works its way into more squared off, modern designs.
For more information on faucetsvisit Divine Design + Build online or visit our showroom at 180 Linden Street, Wellesley, MA 02482; Call us at (781) 235-5650.