4 WAYS TO DO LOFT LIVING IN THE CITY OF BOSTON
"Loft living" is somewhat of a buzz word. We agree. However, there are some really great ways to address this practical approach to small spaces. From the ultra contemporary to the more traditional in tastes, there is a loft life for everyone. Thus Boston's destination for both modern and traditional interiors, Divine Design + Build practices a well-versed routine of converting the drab to the "Divine" in this great city.
1. CLASSIC CONTEMPORARY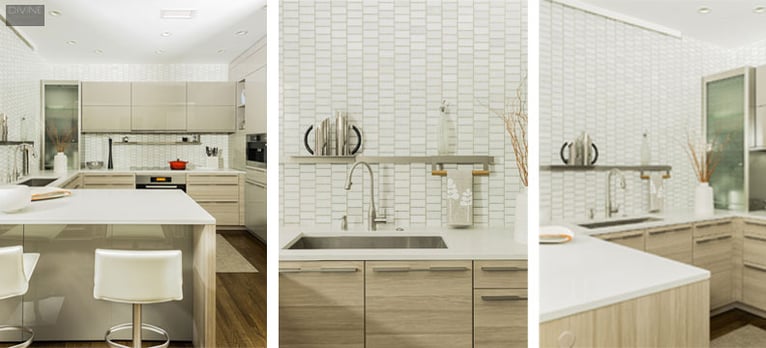 Classic contemporary, white illusionary
Can you ever go wrong with white, and light, and super bright? We think not. While this contemporary stronghold takes us all the way back to our earlier days, it still remains as one of our favorites. The mosaic backsplash pictured in the kitchen + the pictures integrated sillites epitomizes modern design. But, the creme de la creme in this ode to loft living lies in the defining high ceilings and harmonious lines.
2. ULTRA INDUSTRIAL
Loft living done in the industrial
At the forefront of loft living comes industrial interior design. The two, when pondered, go hand-in-hand. Small spaces equate to only the most utilitarian. So, this Somerville loft defines and re-defines time and time again. Industrial interiors may seem for the young at heart but truly rest in timeless desire.
3. TINY DONE RIGHT
Charlestown tiny kitchen
Tiny home, tiny loft, and now the tiny kitchen. This Charlestown, MA renovation just goes to show that even the smallest places possess the best in possibilities. Consequently, the shimmer of the tiled backsplash and the sheen of the silver appliances offer depth and contrast in the opening up of this space. A la loft living for life. Yes, please.
4. TOUCHING ON TRANSITIONAL
Transitional renovation
But, the ultra contemporary, handle-less designs of the before mentioned don't appeal to everybody. And, we understand completely. So peer inside this back bay "loft" style townhouse, and find a transitional masterpiece. Shaker-style cabinetry fits right into this exemplary portrayal of life with more traditional meanderings. In lieu of more classically accepted modes of design, Divine's adherence to a lighter backdrop promise open, airy spaces for the ages.
Find out more about creating your dream loft, or dream space of any kind, by visiting Divine Design + Build online or at our showroom 180 Linden Street, Wellesley; (781) 235-5650.
~ Madison Silvers